Grinding raw materials is one of the more energy-consuming processes in the production of feed. Its task is to bring the raw material to the required particle sizes. This is especially important in the case of animal feed, because too large particles cause nutritional losses and too small leads to diseases of the digestive and respiratory systems.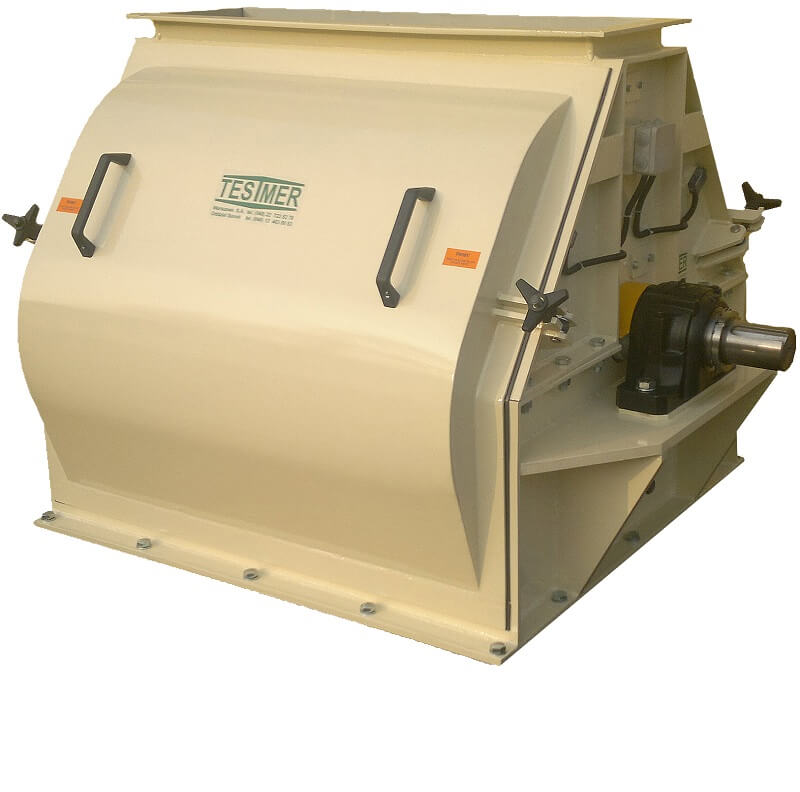 Hammer mills in the TESTMER offer
Testmer designs and supplies hammer mills lines based on the following devices:
hammer mill  vertical  RB-P or horizontal RB-H – as the main milling device,
DS screw feeders  – ensuring proper feeding of the material,
WMS magnetic separators, aspiration devices – to eliminate unwanted metal waste in the raw material and to ensure raw material purity and reduce dust formation
The Hammer Mill  lines are each time adapted to the needs of customers in terms of performance, required grinding, adapted to the raw material used, acceptable dimensions etc.
Hammer Mills RB-P and RB-H  have been designed for grinding cereal grains, animal feeds, feed components and other similar materials. In RB-P Hammer Mills, the motor drives the direct rotor of the Hammer Mill. The Hammer Mill can be equipped with an electric motor with power from 11 to 110 kW. In models RB-P45 – 110 it is possible to use a 2-speed engine that allows to obtain the required grinding for various raw materials. Higher speed allows to obtain smaller fractions (e.g. feed for pigs), slower speeds guarantee the quality for  poultry. In addition, all Hammer Mills are ready to work with the inverter. Pneumatic or electric opening interlock as well as mechanical or pneumatic sieve replacement system were used as safety equipment.
The Hammer Mills are mounted on anti-vibration insulators which are selected so as to slightly transfer any vibrations to the ground.
All Hammer Mills motors are fitted with thermistor protection as standard.
To ensure the highest efficiency, shredders are delivered with an IE3 engine as standard, 
   in accordance with the requirements of the IEC 60034-30 standard.
On request, the engine and equipment of the Hammer Mill is delivered in ATEX version.

Optional equipment of Hammer Mills are temperature sensors in motor bearings and vibration sensor.
Basic parameters of hammer mills
| Type | Power [kW] | Output Capacity [t/h] * |
| --- | --- | --- |
| RB-P11 | 11 | till 2,5 |
| RB-P15 | 15 | till 3.0 |
| RB-P18 | 18 | till 3.5 |
| RB-P22 | 22 | till 5.0 |
| RB-P30 | 30 | till 6.0 |
| RB-P37 | 37 | till 7.0 |
| RB-P45 | 45 | till 8.0 |
| RB-P55 | 55 | till 10.0 |
| RB-P75 | 75 | till 12.0 |
| RB-P90 | 90 | till 16.0 |
| RB-P110 | 110 | till 20.0 |
| RB-H90 | 90 | till 16 |
| RB-H110 | 110 | till 20 |
| RB-H132 | 132 | till 25 |
| RB-H160 | 160 | till 30 |
* –  Output capacity was achieved for wheat grain and 4 mm sieves. It may vary depending on the density of the material, humidity and its mechanical parameters.
We strive to ensure that our hammer mills achieve maximum efficiency with minimum energy consumption. This is our modest contribution to

RB-P hammer mills work well in feed factories.
RB-H hammer mills are universal, therefore they are also recommended for grinding biomass as milling mills.
The feeders offered in the milling lines ensure even dosing of raw material to the hammer mill. The capacity of the feeder is smoothly regulated by a frequency converter. The feeder has a large inspection door that allows cleaning the inside of the feeder and a air filter.
The dimensions of the feeders are adapted to the size and performance of the hammer mills they will work with.
| Type | Dimension [mm] | *  Output capacity [t/h] |
| --- | --- | --- |
| DS-4 | 130 | 3 |
| DS-6 | 160 | 6 |
| DS-10 | 200 | 10 |
| DS-15 | 250 | 16 |
| DS-20 | 310 | 22 |
An importend element of the milling lines are magnetic separators – read more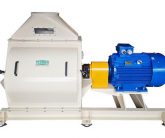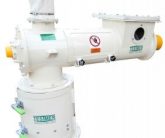 TESTMER - professional solutions for the feed production market
TESTMER WARSZAWA S.A. is the market leader in the production of technological lines for feed production in Poland. From 1991 we installed over 100 lines in Poland, Belarus, Ukraine, Russia, Italy and the Czech Republic.
The basic machine used in the feed production line is a pellet press. TESTMER started production of pelleting presses in 1991 and since then expanded its offer to include all machines related to the feed production process.
We offer warranty and post-warranty service for the feed production equipment purchased from us. Spare parts needed for the proper operation of the devices are produced by our specialized crew in our factory.
Our references are a long-term
cooperation with dozens of
clients