The cyclone is a device used to clean gas of solid particles. They are used in various industries. They are part of the equipment of the pelleting line coolers.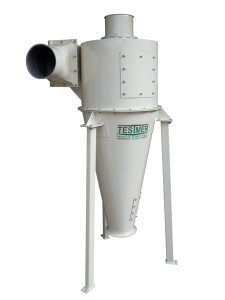 In the cyclone, the polluted gas swirls in a cylindrical chamber, resulting in heavier particles being discarded. Clean air flows upwards.
They can work with a fan on both sides, but work on overpressure is recommended.
Cyclones are used for:
cleaning the air used for pneumatic transport,
purifying air from pellet coolers
purifying air from aspiration devices.
Cyclones allow solids over 60 micrometers to be removed.
In order to increase efficiency they can be combined into multi-cyclones.
They are made of ordinary or stainless steel.
As a standard, they are equipped with an inspection door.
When working with pellet coolers, it is recommended to insulate them so that moisture from the air does not condense on the walls.
Cyclones are made as right or left depending on the needs of the customer.

Type
Flow Q at speed
air 18-20 m / s [m3 / s]
Diameter / height [mm]

CE-560

0,8-1,0

560/1483

CE-800

1,3-1,5

800/2261

CE-1120

2,2-2,4

1120/3141

CE-1320

3,2-3,9

1320/3669

CE-1600

4,6-5,1

1600/4146

CE-2000

6,2-7,6

2000/5200
The flow was determined at a pressure difference of about 1000 Pa and separation exceeding 95% for particles larger than 20 microns.
Cyclones are adapted in size to connect with SC type dust locks rotary valve.
SC-200 for cyclones up to CE-1120
SC-250 for cyclones from CE-1320


TESTMER - professional solutions for the feed production market
TESTMER WARSZAWA S.A. is the market leader in the production of technological lines for feed production in Poland. From 1991 we installed over 100 lines in Poland, Belarus, Ukraine, Russia, Italy and the Czech Republic.
The basic machine used in the feed production line is a pellet press. TESTMER started production of pelleting presses in 1991 and since then expanded its offer to include all machines related to the feed production process.
We offer warranty and post-warranty service for the feed production equipment purchased from us. Spare parts needed for the proper operation of the devices are produced by our specialized crew in our factory.
Our references are a long-term
cooperation with dozens of
clients