Dust lock and rotary feeder
Rotary dust locks and rotary feeders are used for volumetric dosing of loose materials occurring in the form of various types of powders, powders, poppies, middlings, grains or pellets from spaces where there may be a difference in air pressure.
The locks have cells that regularly open and close during operation. Such a gate is often called cellular.
SC rotary lock gates are used primarily for emptying accumulated material from cyclones, unloading silos and tanks, collecting material from shredders, sieves as well as in the pneumatic transport system.
SCV rotary vane locks are mainly used for dosing loose materials to TESTMER CV coolers, as well as to other devices in pneumatic and gravity transport.
An optional  shaft rotation sensor is possible.
Basic parameters of SC rotary cell locks
Type

Power

[kW]

Output

[m3/h]

Dimensions input/output

[mm]

SC-200
0,37
till 6,5
Ø200/Ø200
SC-250
0,55
till 15
Ø250/Ø250
To increase the seal tightness, an 8-arm rotor can be used.
Basic parameters of SCV rotary vane locks
Type

Power

[kW]

Output
[m3/h]

Dimensions input/output

[mm]

SCV-300
0,75
till 25
250×250
SCV-350
1,1
till 40
300×400
Dust and metering gates on request can be supplied with ATEX version equipment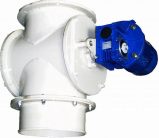 TESTMER - professional solutions for the feed production market
TESTMER WARSZAWA S.A. is the market leader in the production of technological lines for feed production in Poland. From 1991 we installed over 100 lines in Poland, Belarus, Ukraine, Russia, Italy and the Czech Republic.
The basic machine used in the feed production line is a pellet press. TESTMER started production of pelleting presses in 1991 and since then expanded its offer to include all machines related to the feed production process.
We offer warranty and post-warranty service for the feed production equipment purchased from us. Spare parts needed for the proper operation of the devices are produced by our specialized crew in our factory.
Our references are a long-term
cooperation with dozens of
clients