Feed pelleting
Feed Mixing
Grinding raw materials
Technological weighing lines
Feed pelleting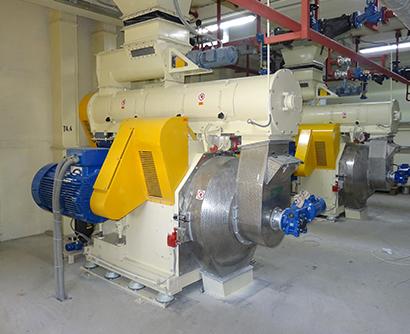 Feed pelleting
Pelleting as a process of thickening and shaping is widely used in the feed production process. It involves pressing the raw material through the dies holes. The high temperature caused by the addition of steam and significant pressure causes the starch contained in the feed to dissolve, which acts as an adhesive, bonding and maintaining the given shape.
Feed Mixing
Grinding raw materials
Technological weighing lines
TESTMER - professional solutions for the feed production market
TESTMER WARSZAWA S.A. is the market leader in the production of technological lines for feed production in Poland. From 1991 we installed over 100 lines in Poland, Belarus, Ukraine, Russia, Italy and the Czech Republic.
The basic machine used in the feed production line is a pellet press. TESTMER started production of pelleting presses in 1991 and since then expanded its offer to include all machines related to the feed production process.
We offer warranty and post-warranty service for the feed production equipment purchased from us. Spare parts needed for the proper operation of the devices are produced by our specialized crew in our factory.
Our references are a long-term
cooperation with dozens of
clients