Designed for diagonal or horizontal transport of loose materials. As a universal device it is used in feed factories, but also in other industries including the production of compost, pellets and others.

The screw conveyors are offered in two versions depending on the shape of the housing:
Trough conveyors type "U" in which the unscrewed covers allow you to clean the conveyor or remove any blockages.
Tubular conveyors with closed, tight construction.
The conveyors consist of the following components:
high efficiency drive gear motor with flexible coupling,
segments of troughs (pipes) 0.5, 1 and 2m long,
intermediate bearing.
Optional equipment such as:
overflow cover with sensor,
rotation sensor
inlet and outlet connectors.
Basic parameters of trough screw conveyors.
 

| Type | Screw diameter [mm] | Output capacity [t/h]* |
| --- | --- | --- |
| PSK-150 | 150 | 6 |
| PSK-200 | 200 | 10 |
| PSK-260 | 260 | 15 |
| PSK-320 | 320 | 25 |
| PSK-400 | 400 | 35 |
* The given output capacity is indicative for wheat grain (0.7 t / m3). It may vary depending on the tilt angle, material density etc.
Depending on the needs, the conveyors can be made of ordinary steel – painted, galvanized or stainless steel.
Different applications with different flight & pitch 
Conveyors are most often made with a 1/1 screw pitch (pitch / diameter). Such a jump is the most universal and suitable for transporting most materials.
Conveyors with a screw pitch of 0.7 / 1 are recommended for conveyors that work at an angle and raise material.
Variable pitch screw conveyors used in feeders to achieve a uniform flow and to block the free flow of material.
For viscous materials  single flight ribbon is recommended. The open space between the ribbon and the shaft eliminates the accumulation of material.
TESTMER manufactures screw conveyors with flight/pitch  adapted to the type of conveyed material and its parameters.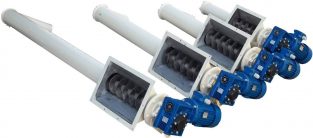 TESTMER - professional solutions for the feed production market
TESTMER WARSZAWA S.A. is the market leader in the production of technological lines for feed production in Poland. From 1991 we installed over 100 lines in Poland, Belarus, Ukraine, Russia, Italy and the Czech Republic.
The basic machine used in the feed production line is a pellet press. TESTMER started production of pelleting presses in 1991 and since then expanded its offer to include all machines related to the feed production process.
We offer warranty and post-warranty service for the feed production equipment purchased from us. Spare parts needed for the proper operation of the devices are produced by our specialized crew in our factory.
Our references are a long-term
cooperation with dozens of
clients