TESTMER is a producer of pellet mills, pelleting lines as well as accompanying devices. We are the only Polish producer of dies and rolls. We make rolls and matrices for TESTMER and other pellet mills.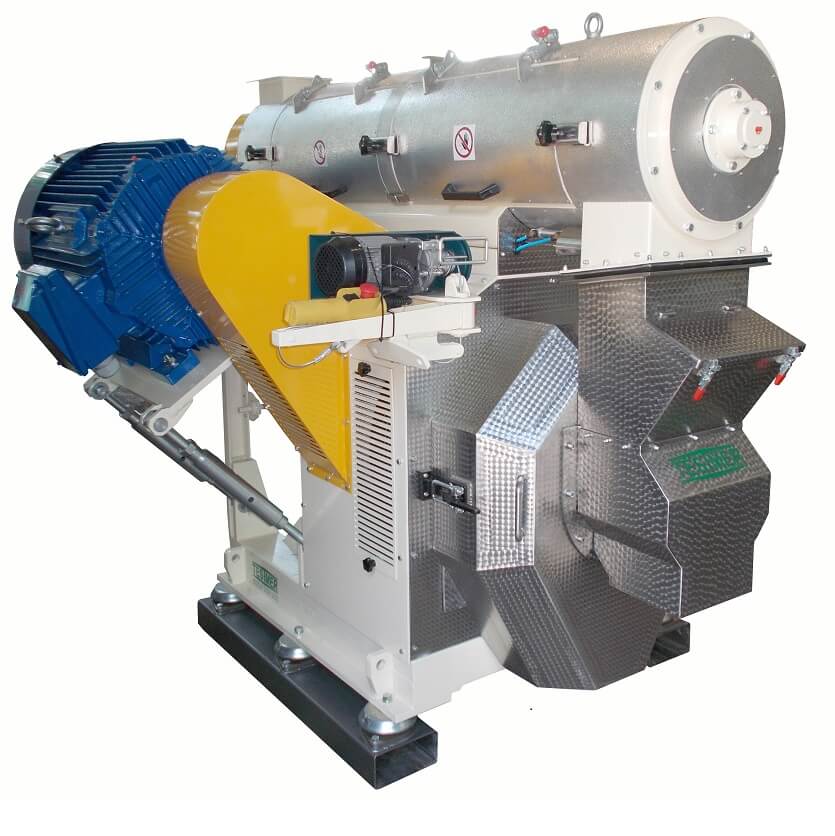 The pellet press up to 75 kW can be made as a single-electric-motor, and above this power as a twin-electric-motor. The belt transmission used ensures smooth drive transmission and quiet operation.
The feeder's task is to evenly feed the raw material to the granulation press. The conditioner is a type of mixer in which as a result of the movement of the blades, the raw material can mix with steam, water, molasses and other additives.
The pellet mill is a safe device in which a number of sensors and blockades are used, whose task is to protect the operators and the device itself.
In order to facilitate the exchange of rollers and matrix, an electric lift is used in the granulator,
The granulator's optional equipment is:
automatic lubrication system (in the granulator from PD10 automatic lubrication system is standard),
front screw feeder – mainly for biomass pelleting,
devices for spraying oil directly onto the falling granulate (the so-called warm pellets),
To ensure the highest efficiency, we supply granulators with IE3 motors as standard 
, in accordance with the requirements of the IEC 60034-30 standard.
On request, the engine and equipment can be supplied in an ATEX version. 

Optional equipment of pellet mills are temperature sensors in drive motor bearings.
A complete automation and control system is offered for each granulator
thanks to which the granulator achieves optimal working parameters.
The automation system is implemented on proven SCHNEIDER ELECTRIC equipment.
| Type | Die diameter  Ø  [mm] | Power [kW] |
| --- | --- | --- |
| PD-1 | 250 | till 20 |
| PD-3 | 305 | till 45 |
| PD-5 | 360 | till 65 |
| PD-10 | 420 | till 120 |
| PD-15 | 550 | till 220 |
| PD-20 | 700 | till 270 |
| PD-30 | 850 | till 320 |
We offer ring die pellet mills best suited to feed or aquatic feed production. We are a producer of dies and rolls, which ensures efficient and timely delivery of spare parts for our customers.
The parameters of the pellet mill are closely related to the processed raw material, therefore we approach each project individually, setting up the line so as to obtain the required parameters with minimal power consumption.
TESTMER produces feed pellet mills of the PD series
and reinforced pellet mills designed for pelleting various materials of the PDT series. 
Pelleting biomass  –  read more
Conditioner with steam system
ML – conditioners designed for thermal processing of feed with steam before pellet mill (barothermal treatment). The steam system  consisting of a control valve, pressure regulator, strainer and pressure gauge. TESTMER uses and recommends reliable valves from SPIRAX. The conditioner design allows fat or molasses to be added to the feed. The conditioner elements in contact with the feed are made of stainless steel, and the conditioner itself can be optionally insulated with insulating material and additionally electrically heated to achieve the required temperature parameters faster.
The working elements of the conditioner are blades, which – set at different angles – ensure proper mixing of the feed.
| Type | Volume  [l] | Output Capacity  [t/h] |
| --- | --- | --- |
| ML-05 | 20 | till 0,8 |
| ML-1 | 66 | till 2 |
| ML-3 | 109 | till 4 |
| ML-5 | 160 | till 6 |
| ML-10 | 255 | till 12 |
| ML-15 | 491 | till 18 |
| ML-20 | 588 | till 22 |
| ML-30 | 830 | till 32 |
FG feeder are designed for pellet presses. They provide even (load-dependent) material flow into the conditioner and then into the pellet press. They are also used in other machines requiring precise feeding of raw material.
FG feeder are U-type screw conveyors with variable screw pitch. A change in the capacity of the feeder is obtained by changing the speed of the drive motor controlled by a frequency converter. As standard, we equip the electric engine with a external cooling system. 
| Type | Output capacity   [t/h] |
| --- | --- |
| FG-3 | till 3 |
| FG-5 | till 6 |
| FG-8/12 | 8 / 12 |
| FG-15 | till 15 |
| FG-20 | till 22 |
| FG-30 | till 35 |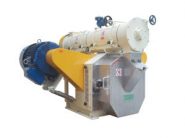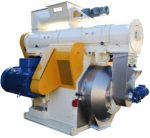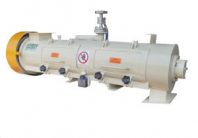 TESTMER - professional solutions for the feed production market
TESTMER WARSZAWA S.A. is the market leader in the production of technological lines for feed production in Poland. From 1991 we installed over 100 lines in Poland, Belarus, Ukraine, Russia, Italy and the Czech Republic.
The basic machine used in the feed production line is a pellet press. TESTMER started production of pelleting presses in 1991 and since then expanded its offer to include all machines related to the feed production process.
We offer warranty and post-warranty service for the feed production equipment purchased from us. Spare parts needed for the proper operation of the devices are produced by our specialized crew in our factory.
Our references are a long-term
cooperation with dozens of
clients