Sterilization of feed is a process of thermal processing of feed. The feed, being at a temperature above 70 degrees for 3 to 5 minutes, undergoes mechanical and chemical changes. The main advantages of sterilization are improved feed digestibility, removal of fungi or bacteria.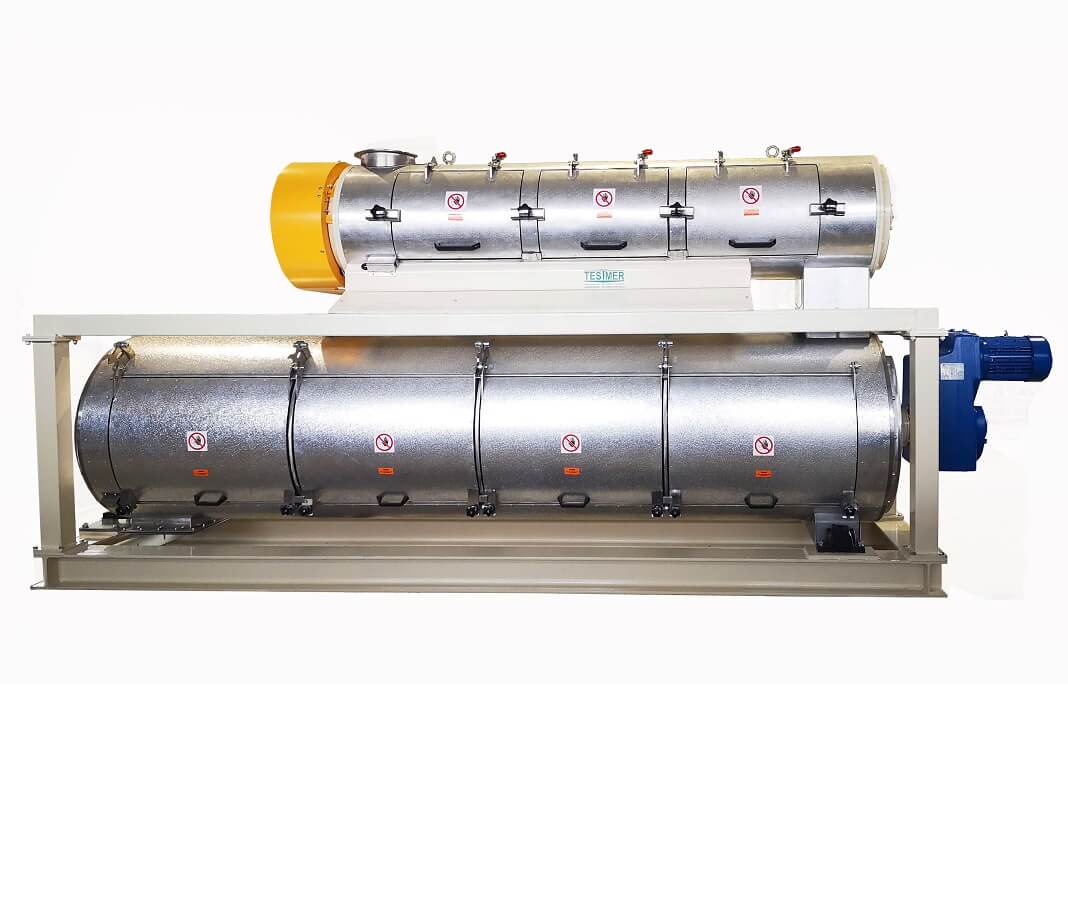 Sterilization in feed production
Sterilization is a process of thermal processing of animal feed.
In the pellet mill conditioner, the feed reaches the required temperature and moisture. The conditioning process lasts a maximum of 30 s, which is sometimes insufficient for some types of bacteria or fungi in the feed. Using the sterilizer, you can extend this time to 5 minutes.
Such a long time influences that the feed undergoes the following changes:
fungi and bacteria causing animal diseases are removed,
the digestibility of feed increases by removing anti-nutritional factors,
starch gelatinizes, making the pellets harder and more durable
Sterilizers are a type of screw with a significant volume, driven by an inverter controlled gear. Changing the rotation speed of the screw affects the time of sterilization. The sterilizer is insulated along its entire length and is additionally heated electrically to avoid temperature loss and maintain constant sterilization parameters.
The sterilizer is mounted on the weighing system. Weighing allows to adjust the degree of filling and control the feed flow, and better integration with pellet mills.
Special features of TESTMER sterilizers
retention time 3-5 min,
change of retention time by changing the sterilizer speed,
weighing the sterilizer ensures control of the degree of filling,
insulation reduces heat loss and ensures stability of process,
large inspection doors allow access and cleaning,
all elements of the sterilizer in contact with the feed are made of stainless steel,
integration with TESTMER pellet mills at the mechanical level as well as control and operation.
The components of reputable companies are used for the manufacturing, guarantee less service and long operation.
The energy consumption is only around 0.7 kWh per ton feed. 

TESTMER hygienisers are safe to use.
They have:
inspection door opening sensors that instantly immobilize the screw,
heating temperature sensor controlling the heating process and protecting against overheating,
insulation of the hygieniser to protect against accidental injure.
On request, they can be supplied with equipment that meets ATEX standards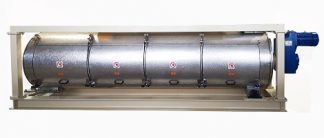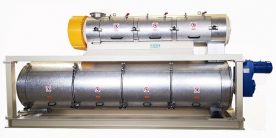 TESTMER - professional solutions for the feed production market
TESTMER WARSZAWA S.A. is the market leader in the production of technological lines for feed production in Poland. From 1991 we installed over 100 lines in Poland, Belarus, Ukraine, Russia, Italy and the Czech Republic.
The basic machine used in the feed production line is a pellet press. TESTMER started production of pelleting presses in 1991 and since then expanded its offer to include all machines related to the feed production process.
We offer warranty and post-warranty service for the feed production equipment purchased from us. Spare parts needed for the proper operation of the devices are produced by our specialized crew in our factory.
Our references are a long-term
cooperation with dozens of
clients