Designed for horizontal transport of materials over considerable distances (up to 70m). They are used in feed factories, grain elevators and in other industries, including the production of biohumus, compost, pellets and others.

As versions can be find:
single bottom conveyors – unidirectional, optionally filled with plastic,
double bottom conveyors for transporting material in both directions.
The conveyor assemblies are:
drive station with a geared motor with direct drive or through a gearbox,
final station,
Intermediate channels 0.5, 1 and 2 m long
Transport chain.
Optional equipment is:
rotation sensor located at the end station,
sensor with overflow cover,
bottom lined with plastic,
open discharge channels or additionally equipped with ZP type slide gates whose dimensions are chosen so that the damper is the bottom of the conveyor,
local aspiration.
For conveyors, we optionally make support frames, platforms, flyovers.
Basic parameters of scraper conveyors.
 

| Type * | Width [mm] | Output capacity [t/h] ** |
| --- | --- | --- |
| PZ-150 | 150 | 25 |
| PZ-200 | 200 | 30 |
| PZ-250 | 250 | 50 |
| PZ-300 | 300 | 75 |
| PZ-350 | 350 | 110 |
| PZ-400 | 400 | 150 |
* –  Larger dimensions according to individual offers
** – Capacity is approximate for wheat grain (density 0.7 t / m3).
Performance may vary depending on the density of the material and its mechanical parameters.
Depending on the customer's requirements, all transport devices can be delivered with equipment meeting the ATEX standard. 

We encourage you to familiarize yourself with the entire TESTMER offer.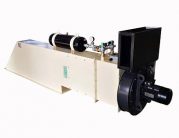 TESTMER - professional solutions for the feed production market
TESTMER WARSZAWA S.A. is the market leader in the production of technological lines for feed production in Poland. From 1991 we installed over 100 lines in Poland, Belarus, Ukraine, Russia, Italy and the Czech Republic.
The basic machine used in the feed production line is a pellet press. TESTMER started production of pelleting presses in 1991 and since then expanded its offer to include all machines related to the feed production process.
We offer warranty and post-warranty service for the feed production equipment purchased from us. Spare parts needed for the proper operation of the devices are produced by our specialized crew in our factory.
Our references are a long-term
cooperation with dozens of
clients